Looking for the best Hotel in Kathmandu Valley for the luxurious stay? Here is the list of 10 best Hotels available in Kathmandu to have the luxurious and comfortable stay. The best hotels in Kathmandu, listed by merokalam team, based on hotels status(star) customer's review on the internet, quality of service, location, budget, and other facilities.
Best Hotels in Kathmandu :-
1. Hyatt Regency Kathmandu  [ 5-Star Hotel ]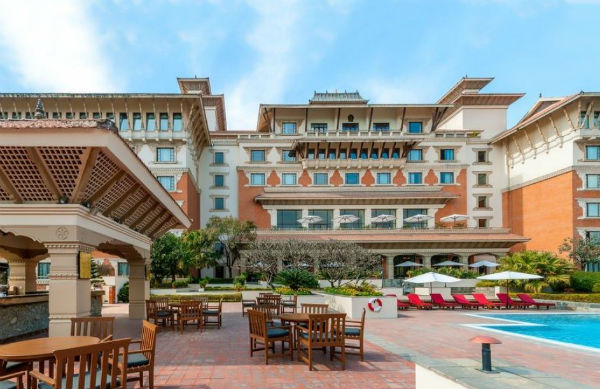 The five-star hotel, Hyatt Regency, is situated near the UNESCO World Heritage site, Boudhanath Stupa, and very close to Tribhuwan International Airport. The hotel offers the world-class hospitality and is one of the best hotel located in Kathmandu Valley.
Hyatt Regency hotel is set on 37 acres of land and offers highly facilitated 280 rooms including 8 suites. The hotel Hyatt Regency is designed in a traditional Newari style of Nepali culture.
Hyatt Regency offers many facilities such as large space for events and programs, parking facilities, free WiFi facility to all the guest, swimming pools, helipad, museum, outdoor whirlpool, non-smoking rooms and business meeting rooms.
It is also an ideal hotel for events like wedding and MICE events. The hotel is also one of the best Business hotels in the city. And offers highly equipped facilities and services for business travelers which makes it one of the best international five-star business hotel in Kathmandu.
The hotel Hyatt Regency also offers the Club Oasis spa, fitness center, jogging track, health club, beauty salon, shops for the last minute shopping, laundry services, babysitting services, multilingual staff, airport transfer, tennis courts and venues for weddings and events. It is also one of the best hotels (booked) in the city.
Hyatt Regency is the only Hyatt brand property managed by Global Hyatt Corporation under the Hyatt Regency Portfolio in Nepal.
Check also: Average Living Cost in Kathmandu
4. Shangri-La Hotel Kathmandu [ 5-Star Hotel ]
9. Aria Boutique Hotel & Spa [ 3-Star Hotel ]