Kantipur Font Download | Download Nepali Font
Kantipur Font is one of the popular Nepali Font for typing in Nepali language or in Devanagari script. It is similar to Preeti Font and has simplicity in looks. This font is popular among Nepali local newspapers which do not use Unicode and also popular in offline typing.
Why Kantipur Font?
It is an official font of Kantipur media group(KMG). Those who are familiar with Preeti Font can easily learn or type Kantipur. It is the second most popular font in Nepal after Preeti. There are many online converters available for conversion of Kantipur into Preeti, Unicode and other fonts and vice versa.
The popularity of Kantipur font is due to simple look, easy to learn for those new users who are already familiar with Nepali fonts like Preeti. And also the Kantipur font can be easily downloaded and installed in Windows, Mac, Ubuntu, and Android.
Preeti font is like the Times New Roman font in Nepali fonts and Kantipur is like the Arial font of Nepali fonts, in the comparison between these two. So these two are quite similar in looks and in typing.
Highlight features of Kantipur font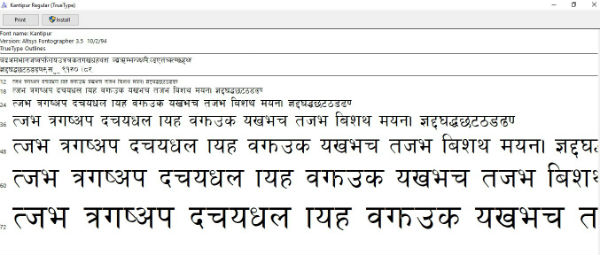 Kantipur Font is easy and simple to type.
It is similar to other popular fonts like Preeti, Sagarmatha, Kanchan etc..
The simple look which is required for those who needs normal typing.
It is easy to download and install.
Easy conversion into Preeti, Unicode, and other fonts.
Mostly used in MS Word and for offline typing.
Which one is your best Nepali font? Probably you are using Preeti font most of the time! right? After Preeti, Kantipur font is second popular to write Nepali font. It's most using Nepali font because most of the readers are familiar to Kantipur newspaper. that's why it's easy to read and type.