There used to be a time a few years ago when if you want to do Stock trading, it used to require a phone call to a stockbroker and had to pay a high fee to execute your stock trade. But now it is a lot easier to trade as it is possible to do with a single click in your mobile application and trade an array of financial instruments with a minimum cost. After the launch of Robinhood, the minimum cost that used to be required for stock trade also faded.
Robinhood is a free-trading app with zero fees and recently rolled out stocks and options trading with no commissions. Yes, you heard it right, it is commission-free. Robinhood started as an awesome trading app and now it is also available as a web-based desktop trading platform. It is best for the amateurs who wish to learn how to trade stock, options, cryptocurrencies, and ETFs and also for experienced stock traders who take swing/long term positions. So what exactly is Robinhood, how to use it, what it is its best features, you might have lots of questions about it? Here is a detailed article on Robinhood with features, how to use it, its pros and cons.
What is Robinhood?
Robinhood Markets, also known as Robinhood, is a commission-free investment and stock-trading mobile app and web-based platform that provides users to trade stocks, ETFs, options, and cryptocurrencies. Robinhood was founded by Vladimir Tenev and Baiju Bhatt in 2013. The company headquartered in California, United States.
They provide a 100% commission-free stock, ETF, option and cryptocurrency trading services, with an account minimum up to $0. Robinhood doesn't support Mutual funds and bonds for now and you will have only one account option. It is the best option that you have if limiting cost is your main concern in stock trading. Robinhood serves more than 6 million accounts and its valuation is estimated at around 7.6 billion USD.
Though being new in the stock trading industry, it has been successful to become one of the fastest-growing brokers in the industry. The main reason for the fame of Robinhood is the claim that they do not charge commissions for stock and options trading. Initially, they started their service through a mobile app and in November 2017, they also started a web-based website for desktop users. They claim that Robinhood is the best one out there for teaching new investors.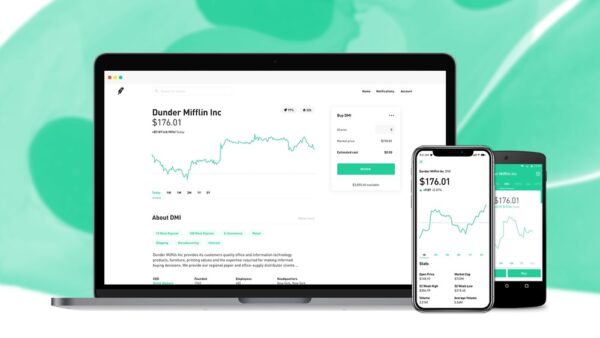 Why Robinhood is good?
Commission-free trade:
Everyone loves to get free services. That dream of getting free service is fulfilled by Robinhood. They are committed to providing 100% commission-free stock, ETF, options and cryptocurrency trades which is admirable. This does a significant amount of savings for investors who trade frequently. As we know, every penny you save on commissions and fees is a profit and more money to invest.
They also provide Clearing service for their investor which also helped customers to get the service at lower costs. Investors can operate on the Robinhood clearing system, which reduces many of the service's account fees that investors had to pay higher while using other clearing service providers.
No Minimum Deposit:
You don't require any minimum account to use or open an account on Robinhood, that means you can get started right away. But yes, of course, you need to have enough money to purchase the investment that you want to have. As any of the brokers to open a margin account, you need to have a $2,000 minimum portfolio balance in Robinhood. It is because of the regulations of the Financial Industry Regulatory Authority.
Fractional Shares:
Robinhood also offers the fractional shares, which means you can invest as little as $1 to get a small portion of a share. You can easily invest in shares whose full price is in the hundreds of dollars. This feature allows you to build a diversified portfolio easily as you can buy many companies even if you don't have a lot of money to invest in a single share. The fractional share allows investors to have the chance of investing in as much as different big company's shares they want to invest.
High-yield Savings:
Robinhood has started a new feature known as Cash Management in October 2019, it offers 1.8% APY interest rates on cash in their Robinhood balance. They also provide a Mastercard debit card for spending money or pulling it out of a wide network of ATMs. The free ATM withdrawals are available from more than 75,000 ATMs, and also offers up to $1.25 million of FDIC insurance.
Ease of Use:
Robinhood has an ease of use interface for its user. Whether you use an iOS or Android device, Robinhood's mobile app is easy to use and navigate. It has now also started a website for the web-based version to be used by desktop users. Robinhood is specially designed to be mobile-friendly. It is better than any other brokerage's app.
They especially targeted smartphone users with an easy to use interface. The sign-up and account funding process is quick and painless. You can create an account in just a few minutes, for that you will require to provide your personal information, contact details, Social Security number and means of funding for your account. You will receive account approved notification within an hour, and then users can initiate bank transfers.
When using Robinhood you can do micro-deposits with instant verification provided by Robinhood with many major bank accounts to verify the information. So you don't have to report micro-deposits to your account to verify information which will make you free from sparing your time to report. You can instantly do the bank transfers of up to $1,000 for investing. For deposits of more than $1,000, it will take four to five business days to process. You can also schedule automatic deposits on a weekly, biweekly, monthly or quarterly basis.
Streamlined Interface:
Robinhood is best for investors who know what they want to do in the Robinhood platform as it is quick to execute trades in Robinhood. Though they don't have all the bells and whistles that you might see in other stockbrokers. The market orders, limit orders, stop limit orders and stop orders are also supported by Robinhood.
They also have a feature called collections, in which stocks are organized by category or sector. You can sort or filter the companies in the entertainment industry or tech industry. On the website of Robinhood, the collections feature lets you sort and allow to compare stocks side by side.
At the bottom of the app, you can see a new tab which allows you to access portfolio values, watch lists, account statements and transaction history.
Robinhood Gold:
Robinhood Gold provides investors the option to trade on margin which is also known as borrowed money. Based on buying power or margin and account size, Robinhood carries a flat monthly fee on this service.
New investors need to know that it is risky to trade on margin. When you trade on margin, you are using the borrowed money from the broker, so in case of loss, you may have to pay more than what you invest.
Safety and Regulation:
Though being a new broker in the online trading industry, Robinhood has become successful to get the support of major regulatory authorities to serve its clients a safe medium in the United States and Australia. It is regulated by the Securities and Exchange Commission (SEC). Robinhood is a member of the Financial Industry Regulatory Authority (FINRA) as well as a member of the Securities Investor Protection Corporation (SIPC). The securities and cash of customers of members of Securities Investors Protection Corporation are protected up to USD 500,000 (including USD 250,000 for claims for cash).
Research and Data:
Robinhood offers different forms of research material and data for its users. They also offer a feature called Robinhood Snacks which is a unique 3-minute daily newsletter of financial news. Robinhood also has a blog on its website which provides relevant news and analysis. There is also a basic news feed available in the cash and standard account. For Robinhood Gold Account members they provide professional research from Morningstar which gives financial research service and analysis.
Robinhood is still backward in comparison to other brokers, but the tools and research are increased by Robinhood for its customers. They also provide lists of top movers, earnings calendars and links to earnings calls. The Candlestick charts are now available on a mobile app, and the Investors can view current popular stocks, as well as "Price Paid" and "People also bought". But the "Price paid" option is only available for website users, not available in the mobile app.
Cryptocurrency trading:
You can also trade various cryptos at Robinhood by using Robinhood Crypto feature. You can easily find major cryptocurrencies like Bitcoin (BTC), Ethereum (ETH) or lite coin (LTC) as well as the minor coins such as NEO (NEO) or Lisk (LSK). There are more than 17 types of cryptocurrencies supported by Robinhood for trading using their platform. As cryptocurrencies are not stocks that's why Robinhood Crypto is not a member of FINRA or the SIPC and the cryptocurrency investments that you do with Robinhood crypto are not covered by either FDIC or SIPC insurance. So it will be on your own risk to trade cryptos.
Best features: 
Sign up and get Free Stock:
You will get a free stock from companies such as Apple, Ford, or Sprint when you sign up with Robinhood. There is a referral program for existing users of Robinhood to invite friends. When your friend whom you referred to joins the Robinhood using your link and gets approved then both you and your friend will get a free stock when the application is approved. The value of the share which is given as bonus by Robinhood may be anywhere between $2.50 and $200 and may fluctuate based on market movements.
The shares that are given as free stock are chosen randomly from the inventory of settled shares of Robinhood. And as the shares are chosen randomly by Robinhood, so you and your friend may not receive the same stock. You can only receive free stock up to $500 per year. The price of each stock you get can be checked in the History tabs. You can still get 1 share of free stock if you signed up without a referral link. Once you Sign up you can keep the stock or sell it after 2 trading days on Robinhood.
Start Investing With Very Little Money
The best feature in Robinhood is, you can start investing with very little money even with a dollar. This feature is known as a fractional share. With this feature now you can buy and own a small part of shares of big giant companies such as Google, Amazon, Facebook, etc. So to invest you don't need to have hundreds or thousands of dollars, just a penny is enough to start Investing.
Collections
Robinhood has a feature called collections, which is available on both the mobile app and web-based platforms. The collection feature helps traders to sort the categories of stocks and options to view by sectors and other search terms.
People also bought:
The people also bought feature is available in Robinhood which can help people to get a general market knowledge about what people are buying.
Analyst Ratings:
Robinhood also provides ratings from WallStreet analysis of buying, sell, and hold and also the Morningstar analysts commentary are available in Robinhood.
Price Paid:
The Price paid features allow investors to view at what price other traders have bought, and you can conclude your next trade based on the data that Robinhood provided.
Account Types
Robinhood has only three account types that investors can choose which are known as the standard or instant account, the cash account and the gold account. Here are some details on these accounts:
1. Instant or Standard Account
The Instant or Standard account in Robinhood is a margin account which allows you to do instant deposit and extended-hours trading. In the standard account, there is no need to wait for funds to be processed when you make a deposit or sell stocks up to $1000. It is important to know that day trading is limited in the standard account and the ability to leverage your position is not included.
Pros and Cons of Robinhood Standard or Instant Account
Pros:
Instant deposit up to $1,000
Extended-hours trading
Cons:
Limited Day trading
No ability to leverage your position
2. Cash Account
It is a basic account in comparison to the standard account. In this account, you can place commission-free trades during the standard and extended-hours trading sessions. Robinhood Cash account does not limit your day trading, but you won't have the feature of instant deposits or instant settlements that you can get in the Robinhood standard account.
Pros:
Day trading is not limited
Commission-free trades are allowed during standard and extended-hours trading sessions
Cons:
No instant deposit
Money transfer takes 4-5 days
No ability to leverage your position
Slow settlement
3. Gold Account
This is the most professional trading account offered by Robinhood to professional traders. Robinhood also offers 30 days free trial of Robinhood Gold accounts for new users.
Pros:
Instant deposit up to $50,000
Leverage up to 2:1
Extended-hours trading
Level II market data from Nasdaq
Professional research data from Morningstar
Cons:
Day trading is limited
A minimum deposit of $2000
The monthly cost of $5
A 5% yearly interest on the amount you use above $1,000.
How to Sign Up on Robinhood?
You can easily sign up with Robinhood in a few simple steps. As Robinhood is a mobile-first platform, so there's no problem in signing up with Robinhood though it's a mobile app that is available on Google Play Store and Apple Store or you can easily Sign up using its website from mobile as well as PC. There are some criteria to open an account on Robinhood as similar with other brokerages.
To open an account you must be at least 18 years old and must provide a valid social security number. You will be required to fill in your U.S. residential address and submit the application for Signup. Here we have provided the Signup process in detail with steps:
Step 1:
Open the Robinhood App or website and click on the Sign-up button which you will see on the top right side of the home page. You might see the option to "get free stocks" which is available to new accounts on Robinhood as a Signup bonus using that link.
Step 2:
You have to provide your details, trading experience, and identity documentation and click on submit.
That's much you have to do, and within an hour you may receive account verified notification then you can access your account.
How to deposit money in Robinhood?
You can fund your account with one of the payment methods provided by the Robinhood app to start investing.
Step 1: Click on the Account icon in the bottom right corner.
Step 2: Click on Transfers.
Step 3: Click Transfer to Robinhood.
Step 4: Select the account that you want to transfer from.
Step 5: Enter the deposit and Swipe Up.
Note: You can only deposit money from those bank accounts that are in your name.
That's all, and then you can view your pending transfers and their estimated landing dates in the Statements and History section of the Account tab in mobile apps.
In instant deposits, you will receive up to $1,000 per day but for more deposit of more than that it may take up to five business days. For normal transfer, you can deposit up to $50,000 per business day into your account.
How to Configure Your Trading Account on Robinhood?
You cannot customize your account in Robinhood. But a good thing is the Robinhood platform is already developed with a better User Interface and is specially designed for newcomers. You don't need to be involved in a complex configuration process for your account. The design is very intuitive and before trading tries to find all the basic pages and knows the market orders so it would be helpful for you to execute your trades.
How to Buy and Sell Stocks on Robinhood?
It is even easier to start trading stocks on Robinhood's platform. Here is the step by step process to buy or sell stock on Robinhood:
Step 1: Select your preferred stock and enter the stock's page.
Step 2: Click on "Trade".
Step 3: Click on "Buy/Sell"
Step 4: Click on "Order Types" which is in the upper right order.
Step 5: Choose your preferred order type, the available order type on Robinhood are Market, limit, stop loss and stop limit.
Step 6: Confirm your order.
Step 7: To submit your order swipe up.
How to Withdraw Funds from Robinhood?
Everything is simple and easy in the Robinhood platform, and even the withdrawal also. Here are a few steps to complete the withdrawal process on Robinhood:
Access your account by logging in to your account.
In the bottom right corner, you will see an "Account" icon, click on it.
Click on the "Transfers", after that select "Transfer to Your Bank".
Select your bank account in which you'd like to transfer to.
Enter the amount you want to deposit and click on submit.
Note: Withdrawal may take up to 3 business days in Robinhood to transfer to your bank account. You can only withdraw money to the bank accounts that are in your name.
Is Robinhood trustworthy?
Robinhood is a securities brokerage so it is also regulated by the Securities and Exchange Commission (SEC). The brokerage, Robinhood is a member of the Financial Industry Regulatory Authority (FINRA) and the Securities Investor Protection Corporation (SIPC).
Does Robinhood serve Worldwide customers?
No, Robinhood doesn't serve worldwide. Currently, it only offers services for the residents of the United States and Australia. People who are not residents of the US and Australia cannot open a trading account at Robinhood.
What are the Upcoming Features in Robinhood?
In the next year, Robinhood is launching two of the most requested features in its platform. The two of forthcoming features are:
Dividend Reinvestment Plan (DRIP):
The Dividend Reinvestment Plan (DRIP) feature will be helpful in automatically reinvesting into stocks or the ETF cash dividends that Robinhood users receive.
Recurring Investments:
The Recurring Investments feature will allow users to schedule daily, weekly, bi-weekly or monthly investments into stocks.
Surely, Robinhood, by providing all these features in a single platform, is evolving into a full financial services platform that will be giving tough competition to its competitors.
What are the Fees and Limits in Robinhood?
Robinhood offers a great trading experience for new investors who want to try stock trading. Robinhood is a commission-free trading platform. Robinhood does not charge fees while opening a trading account or to transfer funds to your account or to maintain your account in Robinhood. If we compare Robinhood with other popular online stock brokers such as TD Ameritrade and Charles Shwab which charge around $4.95 to $6.95 per stock trading through their platforms whereas, in Robinhood, it is fully commission-free.
Robinhood discloses if there are any fees that the user may have to pay for the use of service and does not charge any hidden fees. However, there are some charges that you have to pay to the regulatory agencies such as the Securities and Exchange Commission (SEC) and the Financial Industry Regulatory Authority (FINRA). Robinhood doesn't benefit financially from these fees and sends those charges directly to agencies when they collect them. Here are the details of additional fees at Robinhood:
SEC: $20.70* per $1,000,000 of principal. The fee that you have to pay to SEC is rounded up to the nearest penny.
FINRA Trading Activity Fee (TAF): $.000119 per share. The fee for trading activity is also rounded up to the nearest penny and it is not greater than $5.95.
The brokerage, Robinhood does not charge any fee for stock trading means that the broker's platform is a great choice for beginners as it is easier to start trading with no fee per share.
If you want to use the Robinhood Gold Account, you may have to pay some fees. Robinhood will charge you the $5 monthly fee every 30 days at the beginning of each billing cycle. And if you use more than $1,000 of margin, you'll have to pay 5% yearly interest on the additional amount that you use above $1,000.
Min Deposit and Max Withdrawals
The minimum deposit is $0 in Robinhood for the standard account but for the Robinhood Gold account, it requires a minimum deposit of $2000. The maximum withdrawal limit in Robinhood is $50,000 per day.
Robinhood doesn't support Mutual funds and bonds. They also do not have an automatic dividend reinvestment feature in which the dividends can be reinvested in the security that issued them rather than getting as cash. But Robinhood has plans for bringing this feature to their platform next year.
Can I create multiple accounts in Robinhood?
No, you are not allowed to create multiple accounts or open more than one account in Robinhood. Robinhood doesn't support multiple accounts of one individual. They only allow individual taxable accounts which are also called brokerage accounts.
How is the Customer support of Robinhood?
As many brokerages provide phone support, you won't find that in Robinhood. Robinhood's customer support is only available through email. They don't have a phone number. If you are having any kind of a time-sensitive query to ask the broker about your account or trade through them, then you might be out of luck to get a quick response from them. But they do have a useful help center, as well as an easy to navigate website.
Their support team provides limited support for users which include email and a 'submit request' form through mobile application and website. The help center has different sections such as get started, invest in Robinhood, tools & more, manage your account, troubleshooting questions, and tax questions. Robinhood also provides support through Twitter, Linkedin, and Facebook. Though the response time is longer than what is expected from a brokerage.
What are the Pros and Cons of Using Robinhood?
Here are all the pros and cons that you might have when using the Robinhood platform for trading stocks:
Low cost for trading stock.
An easy to use mobile platform for iOS and Android users as well as a web-based platform for all.
Useful for beginners looking to start trading.
On the go Investing and trading.
Support of multiple banks for banking deposits.
No fees for transfer out.
No minimum deposit required for using the service.
Streamlined, user-friendly as well as easy to use interface.
Cryptocurrency trading is also allowed.
No hidden fees.
A regulated and trustworthy broker
Fractional Shares and Dividend Reinvestment features.
Robinhood iOS app uses Apple Touch to login which makes it more secure.
Free US stock and ETF trading for residents for the US and Australia
Fast and fully digital account opening, easy to sign up, easy deposit, trading and withdrawal.
Options Trading feature available at no cost.
Get a notification about market news on your mobile device for earnings, announcements and for various news on stocks that are in your portfolio and watch list.
A feature to trade and track cryptocurrencies 24/7.
No-Fee on ACH Transfers to or from your account.
Retirement Accounts, as well as Joint or custodial accounts, are not available in Robinhood.
Poor Customer Service, no phone or live chat service
Limited Functionality as they don't have a complex trading function available so Robinhood is not for the advanced trader.
Quote, data may be delayed by as much as 20 minutes.
Robinhood doesn't support mutual fund or bond investing.
Limited product range and Investment choices.
Not enough educational materials.
Not easy for managing your holdings as only 10 stocks are shown.
Too basic charts and data for the research.
Printing tax documents and statements is a hassle as you have to email it to yourself, and then you can print it.
Limited choices for account types.
No demo account for beginners.
Only Available for the residents of the United States and Australia.
Some of the features require paid upgrades such as the Gold account.
Costly withdrawal when using wire transfer and international transfers.
Check also: 10 Best Sector To Invest in Nepal [ Nepal Investment Guide ]