Nepali Food – Top 10 Foods You Need to Know
|
Nepal's cultural and geographical diversity provides space for a variety of cuisines which is based on ethnicity and climate and soil. As everyone knows, Nepal is a land of ethnic diversity. In Nepal, more than 125 recorded ethnic groups live. All of these ethnic groups have distinct customs, culture, traditions, and cuisines. There is also a variety of food that all differs from ethnic group to ethnic group. All of these 125 and more divergent ethnic groups pride themselves in their unique foods and cuisines. Nepali food has the most influence from India and Tibetian cooking styles. Nepalese food has common spices and cooking techniques, or a mixture of both styles making it unique. Nepalese people love to have some timely snacks and in time they prefer some foods over others. Here we have a list of the foods of Nepali cuisine you can try in Nepal. These are the list of best Nepali food that everyone must try at least once in their life.
List of Top 10 Nepali food
Daal Bhat Tarkari
Daal, Bhat, and Tarkari is the everyday food of Nepal. Also known as the National food of Nepal, It is eaten all over the places. The set of Daal, Bhat, Tarkari or a plate of Daal Bhat Tarkari consists of a cooked lentil soup which is known as Daal, steamed rice is Bhat and Tarkari is a mix of seasonal vegetables.
Daal can be cooked with different pulses like gram, beans, peas, and other legumes. Onion, garlic, ginger, chili, tomatoes, or tamarind can be added in addition to lentils or beans in Daal. Daal always contains herbs and spices such as coriander, cumin, garam masala, turmeric, and ginger. The recipes of Daal may vary by places, locality, family, ethnic group or even season.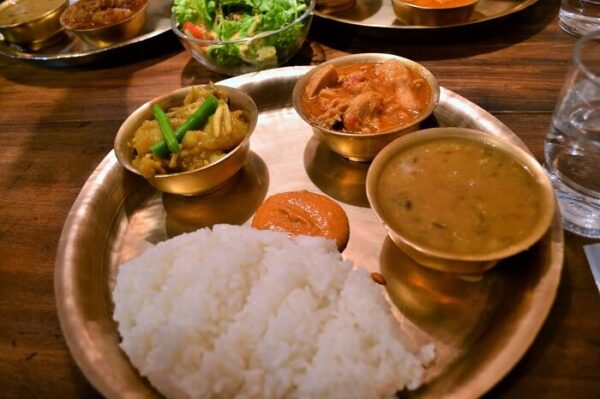 Usually, some quite typical condiments in a small amount of extremely spicy chutney or achaar are eaten as a side dish with Daal Bhat. These can be made from fresh ingredients, or maybe a kind of fermented pickle. The variety of these preparations is staggering, said to number in the thousands. There are some other accompaniments too which may be sliced lemon or lime and some fresh chili peppers(khursani), cucumber slices, radish, and onion slices.
Another side dish with Daal Bhat is the Tarkari. Tarkari is a vegetable curry cooked in the Nepali style. It is generally cooked by mixing different vegetables such as potatoes, tomatoes, garlic, pumpkin, radish, cauliflower, cabbage, etc. Tarkari can be prepared with only one vegetable also or a mixture of different. Tarkari can be also of green leafy vegetables which are called Saag. Mustard leaves, radish leaves, spinach, Rayo leaves, etc can be used to prepare Saag.
Roti (Puri) Tarkari
This word 'Roti' is derived from the Sanskrit word rotikᾱ which means 'bread'. It is also known as Chapati. Roti is a Nepali flatbread that is made from wheat flour (Aatta). It is circular or round flatbread native to the Indian subcontinent made from stone ground wholemeal flour. Roti is consumed in Nepal as well as in India, Sri Lanka, Singapore, Maldives, Pakistan, Indonesia, Thailand, Somalia, Malaysia, and Bangladesh.
It is also consumed in some parts of Africa, Mauritius, Fiji, and the Caribbean, particularly in Trinidad and Tobago, Jamaica, St Lucia, Guyana, and Suriname. But in Nepal, Roti is one of the most popular Nepali food which is usually served for dinner or lunch. People can eat Roti along with anything as if it is meat or vegetables (Tarkari) to lentils or even milk, honey, jam or ghee or just with tea.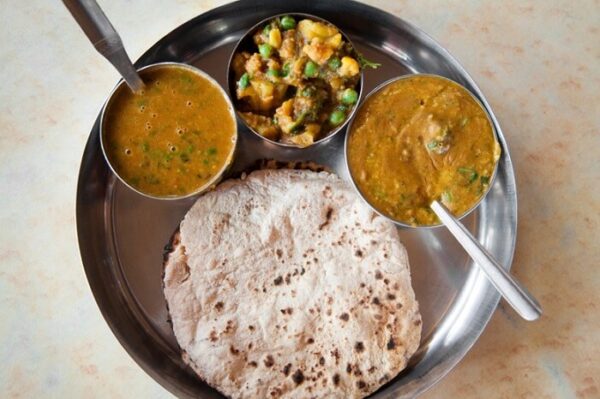 This food is simply common in most of the Nepalese people's houses as a dinner item as this is light and healthy. People usually eat Roti with cooked vegetables or curries and this is cooked on a flat iron pan called Tawa. It can also be eaten with tea or chutney or pickle as a snack. As it is very light to eat that's why it is considered good for health. Also, diabetic patients are told to have three to four sukka roti instead of dal bhat.
There are various types of roti is that are made in Nepal. The dry Rotis are known as sukka roti in Nepali, parathas, daal roti, puri, etc. People can have any kind of roti they prefer. Paratha roti is very easy to make and is made in similar ways to the sukka roti, but there is the use of ghee in it and not in sukka roti. Parathas are usually heavy because of the heavy amount of ghee used in it and could be eaten only with pickles or with curd or Tarkari.
The procedure for making roti is pretty simple. At first, you need to take a large bowl and combine flour, a little melted butter, salt and little amount of sugar. Then we need to add a little milk and also water and knead it until a soft dough is formed. After that keep the kneaded dough under the cover for half-an-hour. Then divide the dough into small shape like balls then flatten those balls into circles, it is usually done by belna (rolling stick) and pihri (flat wooden surface).
Now after that, heat the Tawa on medium heat. Place the roti in the Tawa and turn it after 15-30 seconds. Then, gently press the roti with a soft cloth so that more air pockets emerge. And when the roti starts to puff, take it out of the pan and wrap it in a towel or container. So, after this your roti is ready and the roti tastes best when served hot.
Puri is one of the most famous traditional foods in Nepal. This food Puri is almost similar to Roti but the only difference is, it is cooked in oil or ghee. It is oily most popular throughout the country. Puri is generally eaten together with tarkari, chatne, achar, milk, tea, pickle and curd. This can also be eaten along with Sel-Roti or with Potato Curry which is simply known as Aaloo ko tarkari in Nepal.
Tarkari is a Nepali word for Vegetable curry. Puri is often eaten with Tarkari (Vegetables). Various types of vegetables are prepared to eat with Puri. Mostly the Tarkari is a mix of various Vegetables such as Potato, pumpkins, tomatoes, cauliflower, bottle gourd, etc. It is delicious food with full of spices.
Dhido and Gundruk
Dhido is a very famous traditional food eaten in Nepal. It is very simple to cook and is prepared with millet or maize flour mashed. Dhido is best when it is served with meat or seasonal vegetables. Dhido is flavored with a different kind of homemade well preserved underground spinach known as "Gundruk". Dhindo Gundruk can also be found at several restaurants in Kathmandu under the Traditional or Special Nepalese food menu.
Mostly, Dhido is a very popular food in rural hilly areas of Nepal. It used to be the everyday food for people of the hilly region of Nepal. Dhido is also considered to be very healthy especially for diabetic people. And also the national food of Nepal can be found in typical Nepalese cuisine restaurants and at the local homes of the villages in the hilly region.
Dhido is the main Nepali cuisine which is eaten all over Nepal in the hilly region from Eastern to Far Western Nepal. The other traditional side dish for Dhido is called Gundruk, which is a fermented leafy green curry which is used as a pickle. Gundruk is also similar to Sinki and usually cooked as soup. Some of the Nepali people also eat dhido with some kind of vegetable or potato curries, pickles, yogurt, and Roti. Also in some parts of the country, some people make side dishes as meat, either mutton or chicken for Dhido.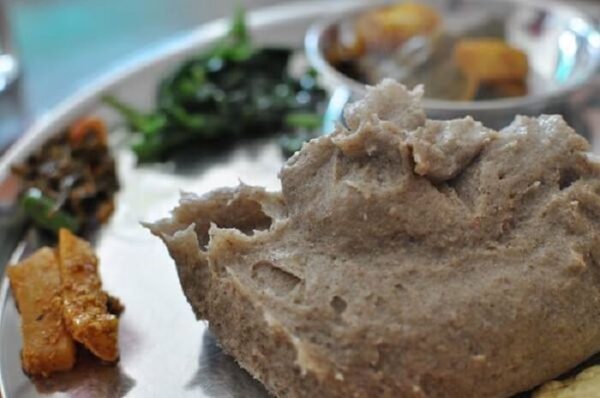 Gundruk is another major component of Nepali cuisine. It is a traditional curry of Nepali cuisine so it acts as a side dish. Some people either make gundruk as curry by adding potatoes into it and other spices or make it as a pickle by mixing gundruk with onions, tomato, chilly and other pickled items. 'Gundruk ko Jhol' and 'Sinki ko Jhol' are popular side dish which is used as an alternative of Daal with rice.
To make gundruk generally the leafy vegetables are used which includes Rayo, Mustard leaf, Radish leaf, and cauliflower leaf. The only difference between Sinki and Gundruk is, Gundruk is prepared from leaves of vegetables whereas Sink is prepared by tap Roots of Radish.
Gundruk has lactic acid bacteria that are important to acid development and contribute to flavor. This gundruk can be preserved for a long time after drying it in the sun in the making process and then packaging it under some polythene bag or some pouches. It is very popular among all the ethnic groups of Nepal. This is also popular in some parts of India which are Sikkim, Meghalaya, Nagaland where there is a dense population of the Nepalese community.
Momo
Momos are native to Nepal and also popular in Bhutan, Tibet, North Indian region Ladakh, India's Northeast region Sikkim, Assam, Arunachal Pradesh, and Darjeeling. MOMO is also known as dumpling which is one of Nepal's most popular dishes which can be eaten by people as a starter, snack, lunch or dinner. The momo dumplings are filled with meat, such as mutton or chicken or buff and are filled with different types of vegetables if it is a veg momo.  All these types of momo can be eaten with soybean, Tomato sauce, and sesame seed mix Pickle.
Momo is also a type of steamed dumpling. This dish has become a traditional delicacy in Nepal, Tibet and among Nepalese/Tibetan communities in Bhutan, and also the people living in Ladakh, Northeast India and Darjeeling regions of India. Momos are prepared from a simple flour and water dough.
Generally, white flour is preferred to make momo, and sometimes a little baking soda is also added to give momo a more 'doughy' texture. After the dough is completed we fill it with special spices, that add unique and original taste to suit the Nepalese palate. Momo is very famous in Nepal and one of the other reasons for this is that the momo's long history. On Nepalese menus, Momo has been figured for centuries and now after centuries, it has become a part of the national culture.
Momo is also known as a type of South Asian dumpling. It is also similar to Chinese baozi and jiaozi, Mongolian buuz, but it is heavily influenced by the cuisine of the Indian subcontinent food with Indian spices and herbs. The word momo itself can make any Nepali salivate. Momo is every Nepalese people's go-to snacks and slowly is also becoming a staple food in Nepali food culture.
When you walk any street in any part of town or city, the smell of fresh steamed Momo fills the streets. Momo is the most eaten snack in Nepal. In Nepal we can see at every street it has a momo shop selling different varieties of momo.
Momo is a sister dish of Tibetan dumplings but a bit smaller, spicier and tastier. Momo is round substance covered with flour on the outside and filled with filling in the inside. The fillings are of several types ranging from vegetables, mutton, buff, chicken, bananas, paneer and any other substance people come up with.
Momos can be found in any tiny huts in the corner of the street to even five-star hotels. The presentation, taste, and side achar or chatni or soup will vary from place to place. However, Momos are one of the most enjoyed dishes among Nepalese cuisine.
In Nepal momo can be found very easily in every other cafe and restaurant and not only that, it is cheap yet very yum!
Various types of momo can be found in Nepal;
Steamed Momo (i.e. Chicken steam momo with achar and salad
Fried & Steam-fried Momo
Tandoori Momo (made by filling tandoori in the dough)
Chilly Momo
Kothey Momo.
Chicken Kothey momo with garnishing
Jhol Momo
Green Momo
Open Momo
Samosa
Samosas are also known as singadas in the eastern part of our country Nepal and the rest of the parts of Nepal calls it samosa. As in Nepal and India, samosa is a very popular snack. In Nepalese, it is one of the most popular snacks. Some of the vendors sell the dish in various markets and restaurants.
The main pastry base for samosa is made from white wheat flour mixed with a little amount of water and oil or ghee. The inside stuffing is usually based around a potato stuffing. The stuffing is made from the combination of onion, cumin, lentils, ginger, chili, coriander and spices or masala. Then the already made pastry is cut into some shapes actually into cone shapes and filled with stuffing. Some people also add ground meat to the stuffing or else it can be a pure vegetarian option.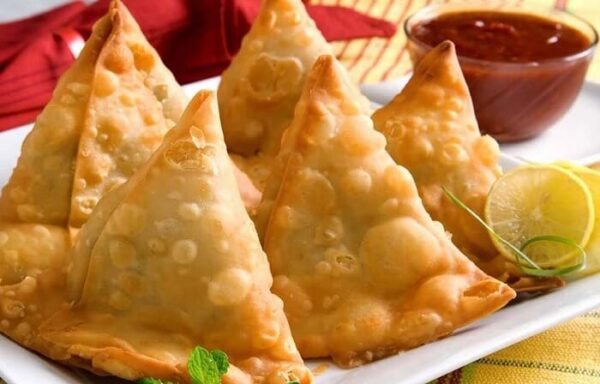 After the process, the samosa is then cooked in hot oil. The taste of samosa depends on how fresh it is and how well it was cooked. If the pastry is crisp, crunchy and wonderfully flaky and stuffing is soft and bursting with spicy flavor then the samosa tastes delicious. Samosa is almost everyone's favorite tea-time snack in Nepal. This type of snack is the most famous appetizer in Nepal. Samosas are usually served with spicy tomato chatni (sauce) or, at some places, with Chola and tea too.
Chola-Samosa is also a popular snack in which Samosa is added to the Chola. Chola is prepared by boiling the soaked gram or peas with spices and tomatoes. And also Samosa chaat is a popular snack which is prepared by adding curd and different kind of chat is in crushed Samosa.
Well as samosa is fried or baked pastry with a savory filling, it can taste good even with tea because of its crispy nature. In today's world samosas are very famous in other regions of the world.
Thukpa, Chowmein
Thukpa is usually known as Tibetan noodle soup, which is originated in the eastern part of Tibet. Among the Tibetan people and Himalayan people of Nepal Amdo Thukpa especially known as Thenthuk is famous. The dish became very popular in various parts of countries like Nepal, Bhutan, and the states of Assam, Sikkim, Assam, Arunachal Pradesh in northeast India and Nagaland. It is also very much popular in the region of Ladakh and the state of Himachal Pradesh. As well as in Bhutan, Thukpa is also considered as a type of Porridge. There are various varieties of Thukpa in Tibetan tradition which includes:
Thenthuk: Hand-pulled noodles
Gyathuk: Chinese noodle
Nepali: Thukpa (थुक्पा)
Pathug: (bag thug) Hand-rolled pinched noodles
Drethug: bras thug
Thukpa is a boiled noodle, which is filtered & mixed with some seasonal vegetables and meat items. In Nepal, Thukpa is very popular in Kathmandu and Mountain region. Normally this is eaten mostly during the winter season. Thukpa is noodles that are dipped in very hot soup, that's why this is good in cold places because it keeps people warm.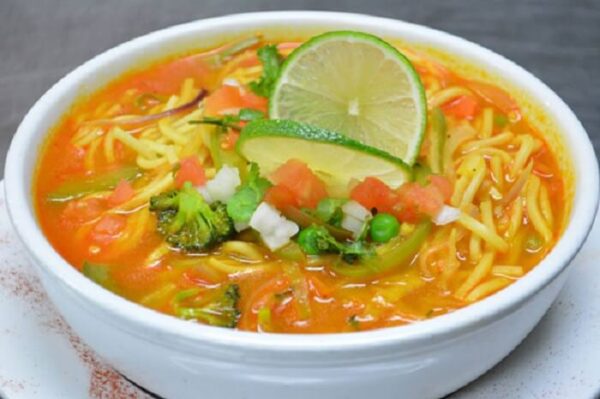 It also has its chili dipped vinegar source. Usually, people like to have hot and spicy tomato Achar with this item. Generally, Thukpa is eaten for lunch at noon or meals at night.
Back then when the Tibetans who settled in Nepal brought Chowmein with them. That's why Chowmein is another adapted form of Tibetan noodles. The noodles are boiled in hot water drained and fried with vegetables and sauce. It is the second most eaten snack in Nepal. Chowmein also comes in different variations like that of Momos. It is a popular fast food in Nepal.
The Newari people of the Kathmandu Valley use water buffalo meat and chicken in their cuisine, and Chowmein. In Nepal, it is often cooked with onions, vegetables, and meat such as chicken, buff, or mutton. Thukpa is a boiled version whereas Chowmein is the fried version of the same noodles. Chowmein is generally taken as an alternative to momo, as both are popular street food.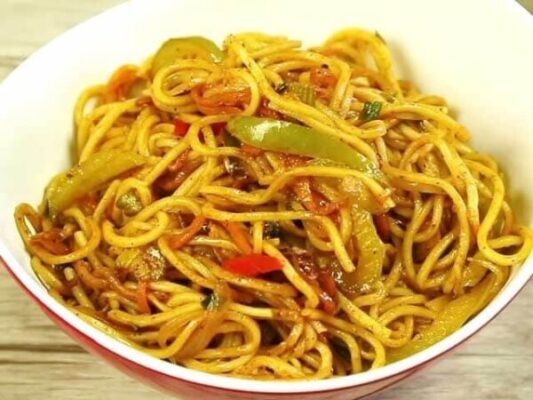 To cook Chowmein, first of all, the noodles should be boiled for sometimes and then boiled noodles are fried with oil in a pan with spices. Eggs, meat and veg Pakoda can be added in Chowmein. Seasoning can be done with green cabbage leaves and Chatni or sauce can be used to enhance the taste of the Chowmein.
Selroti
Selroti doesn't need any kind of introduction in Nepali cuisine. It is one of the most unique Nepal dishes or can also say sweet rice bread, distinct from any other pieces of bread in the world. Selroti is actually like a large thin puffed-up doughnut and has a crispy texture with a reddish-brown color.
This type of Selroti is prepared by grinding soaked rice to create a thick batter with the addition of Ghee and sugar. Actually, in Hindu culture, Selroti is a very traditional, homemade, sweet roti which is a ring-shaped rice bread /doughnut that is consumed in Nepal, and also in Sikkim, Darjeeling district and Kalimpong district. However, Selrotis are thin and bigger.
This is mainly made up of Rice flour, water, sugar, cooking oil and ghee. Some People sometimes prefer bananas, cashews, almond and coconut mixture on it. This type of Selroti is mostly prepared during Dashain and Tihar, which are the great festival and widely celebrated by the Hindu people of Nepal.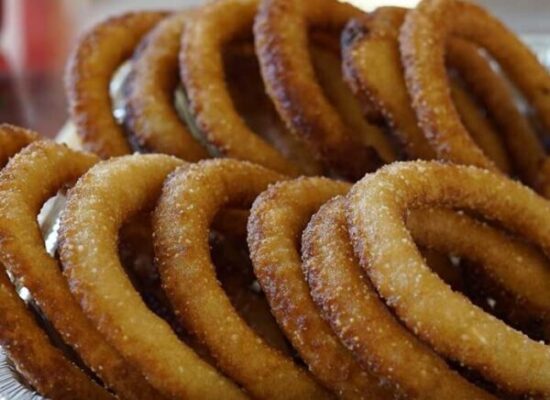 Selroti is prepared and served throughout the country and more likely in the festival of Dashain, Tihar and also during wedding parties and other ceremonies. This is an essential food in most of the Nepalese traditional events and cultural events. To make Selroti first we need to wash and soak rice overnight, drain excess water and then Mix ghee and sugar and finally grind it into a fine paste.
Usually, these kinds of Selroti are served as confectionery bread generally with Puri, achar, milk, tea or with any other hot beverages.
Sometimes some people do use milk instead of water to make a paste for Selroti. But normally it is advisable to use water to preserve it for a longer period. These days some people grind the rice in a blender for convenience.  But the traditional versions of Selorti requires the batter or paste to be very deep-fried in pure clarified ghee, but now the new generation people make the use of vegetable oil instead of ghee for a lighter version of Sel.
During Dashain and Tihar festival, it is rare to see people not making Selroti at their houses. Nepalese people always prepare Selroti during the Nepali religious festivals of Dashain. Selroti are also prepared on other occasions like marriage, Bratabandha, and other auspicious occasions.
Selroti is also prepared as a sacred food for the gods: naivedya and is offered ritualistically to deities. Selroti is very much delicious all by itself. It can also be served with plain yogurt, fried vegetables achar and cucumber pickles. Selroti is best to eat when it is fresh; it becomes somewhat chewy and also the next day. This kind of roti is a non-perishable bread and can be kept at room temperature for almost more than a week.
Makkai Bhatmas
Makkai Bhatmas is also a popular snack in Nepal. It is a Nepali version of Popcorn with soya beans. Makkai is the word for maize in Nepali. And normally, the Makkai Bhatmas is prepared by frying both maize and soya beans in a pan.
Makkai can be eaten as Popcorn or fried. It can be prepared in many ways. Makkai Bhatmas is also a Newari food, but popular all over Nepal. It can be cooked in various ways such as Tareko Makkai Bhatmas, in this, both Makkai (Maize) and Bhatmas (Soya beans) are fried with oil and salt is added as per the taste.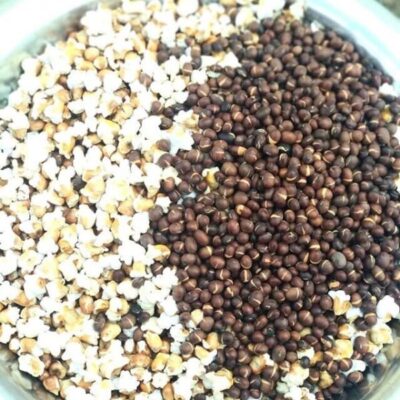 Other spices can be added to enhance the taste. Another variety of Makkai Bhatmas is maize in the form of Popcorn and Bhatmas (Soya Beans) soaked in water and then cooked with spices. Both varieties of Makkai Bhatmas are popular in Nepal.
It is generally taken as afternoon snacks. Makkai Bhatmas are easy to prepare. The Makkai Bhatmas is a proteinaceous diet. Makkai Bhatmas can also be eaten by mixing Sadeko Bhatmas with Fried Makkai (Maize). Sadeko Bhatmas is Fried soya beans mixed with tomatoes, Chilly, Garlic, Ginger, Onion, Coriander, and Lemon.
Newari Khaja set
Newari, Newar or Newah are the indigenous people living in the Kathmandu valley. Newari people have a huge list of dishes like Kwati, Wo, Chatamari, Yomari, and Bara which are the most popular dishes in Newari community and they also prepare these dishes with meat stuffing in them.
Here, we are talking about the Newari Khaja Set, which is one of the most popular Newari meals. It is a local meal of the Newari community largely popular in Kathmandu valley. Newari Khaja Set consists of flattened rice that is eaten with items such as roasted and curried soya beans (musya), fermented mustard leaves (gundruk), or curried potatoes (aaloo tarkari), and peanuts. Meat can be added to the Newari Khaja Set.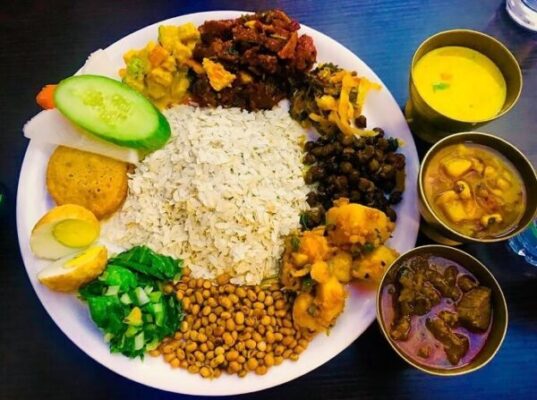 The Newari Khaja set is available in both veg and non-veg set with buff, chicken or goat meat along with a boiled egg. It is available in many Newari themed restaurants. Generally, it is taken as an afternoon snack by Newari people. The dish is rich in nutrition as it contains all the ingredients of nutritious diet such as protein from beans, meat, and eggs, carbohydrate from flattened rice and potatoes and vitamins from green leafy vegetables.
Chatpate
Chatpate is one of the favorite street food that Nepali people love to have. Chatpate is probably the best and easy to find spicy street food in Nepal. Chatpate is a different thing and is in the same category, youngsters prefer it the most. Chatpate is a mixture of spicy ingredients like Chau-Chau i.e. Nepali Instant Noodles, Bhujiya (puffed rice), tomato, namkeen, chilli, onion, coriander, peas, tomato sauce and so on. Chatpate is the best kind of savory snacks, it is usually sold at street-side stalls all over South Asia especially in India and Nepal.
Chatpate is distinctly different in the various cities in which they're popular, from Mumbai to Delhi to Hyderabad to our very own Kathmandu. Kathmandu's chatpate is a different version of chaat, made with puffed rice, dried instant noodles, chickpeas, fresh coriander (cilantro), tomato, cucumber, onion, potato, peas, lemon juice, fresh chilli, and many spices.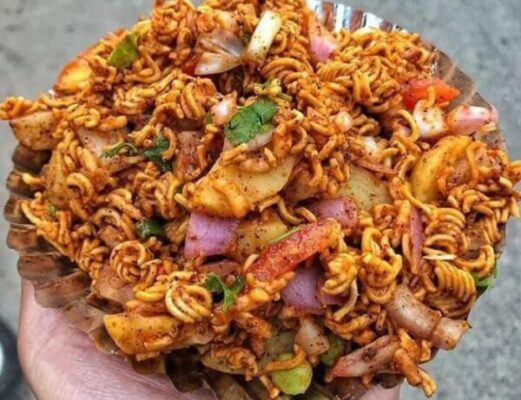 Potatoes are also used for the softness and crunch of dried noodles. Chatpate is mostly always served on the street. It's the perfect snack in between lunch and dinner. There are stalls of Chatpate all over the city selling chatpate. Travelers staying in the busy Thamel neighborhood won't have to go far to find one because it can easily be found in the streets of Thamel.
Chatpate can be different in different regions of Nepal too. But normally, chatpate has Bhujiya (Puffed rice), namkeen or instant noodles, lemon juice and spices with soaked peas. It is highly popular among young girls because of its sour taste, that doesn't mean it is unpopular among boys. It is popular among everyone and can make anyone's mouth watery.
So these are the top 10 best foods that you must try in Nepal. It is a sure thing that tasting these Nepalese cuisines will create a lifelong memory for you. These are day to day food that you might encounter in Nepal while searching for the best cuisine. Some of them can be taken as meals, snacks for the afternoon or breakfast, and some as dinner and lunch. You must try to taste all of them as each of them have different ingredients and flavors which would give a different experience to your taste buds.
Keywords: Best Nepali Food | Nepali Food | Top Nepali Food | Dal Vat Tarkari: Nepali Food | Roti Tarkari: Nepali Food | Samosha: Nepali Food | Momo: Nepali Food | Kheer: Nepali Food | Newari Khaja Set: Nepali Food