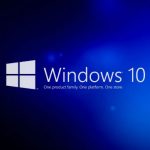 Microsoft has launched Windows 10 on 29 July 2015 . The users of Windows 7, 8, and 8.1 can upgrade to Windows 10 and use for free. In comparison to Windows 8, there are more than six new features and upgrades available in Windows 10. Those extended features are sure to fascinate the users. You can read features of Windows 10.
Features of Windows 10 :

New Start Menu
 In Windows 10, there is a new and improved feature of Start Menu. Along with the Start Menu, the users can get search button. Weather, Calendar, Alert Notification and other facilities are available on the Menu bar.
Cortana
Cortana is a service to use the computer through voice command. In Windows 10, users can use the computer through voice commands.
Biometric Feature
With this feature, users can open computer through their thumbprints, eye contact and face. This feature started in Smartphones and now it has been available in the computer through Windows 10.
Smart Screen
Windows 10 embodies feature that lets to change layout according to the device. In general computers, the menu is small and in touch screens it becomes bigger. Smart Screen feature works more perfectly in touch screen gadgets.
Related post :  How to update windows 8 to 10 free
Task View
The users of Windows 8 and 8.1 know already that works can be done in two files on display at a time but in Windows 10 more than two files can be displayed on a desktop to work simultaneously.
Webpage Edit
In Windows 10, the web page can be edited. The new browser in Windows 10 lets you edit the web page and using the digital pen, one can write notes on the web page as well.
New Setting Menu
 In Windows 10, one can go directly to setting menu from the start menu and start working on settings. The design is also new and attractive.
Check also: Best Tips to Make Computer Run Faster 
Mail App
Those who had been using Microsoft's email have more to achieve in Windows 10 email. Emails can be scrolled to check all the emails in a convenient way.
These are not only the features of Windows 10. There are many more features to excite its users.